Steam Cleaning Backed with a 100% Guarantee.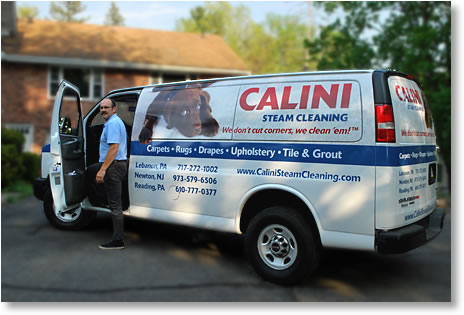 Since 1988, Jacob Calini's family-owned business has provided top-quality, affordable steam cleaning of carpets, upholstery, drapes, rugs, tile, and grout.

When you use our steam cleaning service, you'll never get hit with hidden costs. And if stains come back on any surface we clean, we'll come back and reclean the surface, absolutely free. Just notify us within ten days. Best of all, we offer a money-back guarantee on our services.
Steam Cleaning Services for Residential and Commercial Customers
Whether you're a homeowner frustrated by pet stains on your carpet or a business owner looking to spruce up your office space, we have you covered. We provide the same honest, dependable services to every customer.
We're flexible and work with each customer to provide exceptional, customized services within your budget. And we'll never leave you waiting. We'll show up as scheduled every time.
We take great pride in seeing our customers happy after a well-done job. Calini Steam Cleaning thoroughly cleans carpets and area rugs, leaving your carpets and rugs looking new.
In addition, we're available for spot and stain removal, deodorizing, and disinfecting floors at residential and commercial locations.
Steam Cleaning Gets the Job Done Right
Steam cleaning is one of the most effective cleaning techniques. Most steam cleaners generate steam at 212 degrees Fahrenheit, with some reaching temperatures of 285 degrees.
Those temperatures produce a more effective cleansing than traditional methods. First, steam cleaning kills 99.99% of bacteria. Second, it removes and prevents mold growth. Third, it kills dust moves. And finally, it removes stains, odors, bacteria, and fungi.
In addition to steam cleaning, we also have new products and disinfectants approved by the EPA and CDC guidelines to sanitize for Covid-19.
Considering that indoor air spaces contain more than 100 times more allergens and pollutants than outdoor spaces, giving your family or employees a healthier environment is worth the investment.
You can read more about steam cleaning and its benefits here.
We Get Everything Clean – Carpets, Rugs, Curtains, Upholstery, and More
If you need something thoroughly cleaned, we'll take care of it. That includes moving furniture and removing curtains to get the job done correctly. And you can rest assured that everything will be placed back where it belongs.
Our extensive list of professional cleaning services includes:
Furniture Moving & Cleaning
Sanitizing & Disinfecting
Water Damage Cleaning
Deodorizing & Mildewcides
Spot/Stain Removal
We're also a licensed Scotchgard™ applicator with more than 33 years of carpet-cleaning experience.
Professional Cleaning Services for Lebanon, PA, Reading, PA, and Newton, NJ
Our cleaning company covers Lebanon, Berks, Dauphin, and Lancaster counties in Pennsylvania. Plus, our Newton, NJ location services Morris, Sussex, and Warren counties.
Get in touch for upholstery, carpet, and rug cleaning near you. You'll love the results. Guaranteed.
service that uses advanced steam cleaning tools.
Lebanon, PA Office
Headquarters
1233 Cornwall Road
Lebanon, PA 17042
717-272-1002
Reading, PA Office
Brandywine Rd
Wyomissing, PA 19610
610-777-0377
Newton, NJ Office
Newton, NJ 07860
973-579-6506
"Jacob did a great job. Extremely thorough, excellent work, very professional, and punctual. I will recommend Calini [Steam Cleaning] to others!"
– Scott T., Lebanon, PA