Affordable, High-Quality Carpet Cleaning Service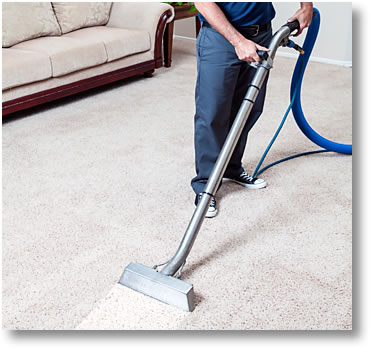 Don't spend your valuable time scrubbing carpets. With over 33 years of experience, our carpet cleaning service makes your carpeting look new in a flash.

Whether you need to fight pet odors, stains from the kids, or ongoing traffic from employees, leave the carpet cleaning to us. We specialize in carpet stain removal. Our steam cleaning removes ground-in dirt better than conventional cleaning methods.
Steam Cleaning Carpets Does More Than Remove Dirt
Carpet fibers hold almost 35 percent of the dust, dirt, and grit. They get ground into and captured deep down in the carpet's pile. Unfortunately, vacuuming picks up only a portion of the accumulated soil. However, vacuuming regularly helps a great deal.
But when you steam clean carpet, it does more than remove the surface dirt you can see. Steam cleaning removes hidden dirt, pollutants, and allergens. And that's important because those hidden issues impact air quality and your health.
Your carpets trap allergens, dead bugs, dust mites, and mold daily. And if you have pets, your carpets absorb their dander and fleas.
Carpets can even absorb and release volatile organic compounds (VOCs) from paint, cigarette smoke, and other sources. And each of these concerns impacts the air you breathe. It's incredibly impactful for those with allergies.
Even the Environmental Protection Agency (EPA) recommends properly cleaning and maintaining any flooring.
Steam Cleaning Your Carpets is Safe
Our carpeting cleaning services are 100% safe for humans and pets!
We use an ultra-concentrated, heavy-duty extraction detergent. It's specially formulated to work at cleaning temperatures associated with truck-mounted and heated portable extractors.
Our extraction detergent contains a unique blend of solvents and alkaline builders that break down and dissolve the toughest soils. At the same time, they soften the water for a cleaner, fresher, softer carpet after cleaning.
It also has a non-tacky formulation that keeps the rug from re-soiling faster. Plus, it leaves a tropical breeze fragrance giving a welcomed, refreshed scent. For specific technical information, you can read our Material Safety Data Sheet.
Routine Carpet Cleaning Extends Your Carpet's Life
The best carpets last between 15 and 25 years. But without proper attention and care, you shorten their life.
Your carpets slowly succumb to the ravages of a deteriorating progression. Stains and spills become progressively more challenging to remove. In addition, the longer they're allowed to remain in the carpeting, the more likely they attract more soil, accelerating the deterioration process.
You should also be aware that the same effect happens to upholstery, curtains, oriental rugs, and tapestries without routine cleaning.
We recommend a deep-clean annually depending on these factors:
The amount of activity in your home or office.
How frequently do you vacuum your carpeting?
The color of your carpet. Lighter-colored carpets require more cleaning.
That's where we come in – we have the know-how and experience to remove stains and odors to keep your carpets looking fresh and extend their life.
We Guarantee Our Carpet Cleaning Service
We'll clean your wall-to-wall carpeting, or upholstery and draperies, to your satisfaction. We offer a 100% guarantee on our services.
So, if you're unhappy with our work, we'll re-clean your carpet or rug for free if stains come back within ten days of the original cleaning. We also offer oriental and area rug cleaning services.
Our Steam Cleaning Company Serves Lebanon and Reading, PA and Newton, NJ
When you're looking for professional carpet cleaning near you, call us. We work with residential and business clients in Central Pennsylvania, including Berks, Dauphin, Lebanon, and Lancaster counties.
We also support clients in New Jersey in Morris, Sussex, and Warren counties.
Lebanon, PA Office
Headquarters
1233 Cornwall Road
Lebanon, PA 17042
Reading, PA Office
Brandywine Rd
Wyomissing, PA 19610
610-777-0377
Newton, NJ Office
Newton, NJ 07860
973-579-272-6506
"Jacob has been cleaning our rugs and carpeting for years. Compared to other services, his is not only much better quality (rugs and carpet look brand new) but also priced right. I feel completely comfortable having him in my home. I recommend him very highly."
– Rose Kennedy, Wyomissing, PA