Ready for a Good Tile and Grout Cleaning?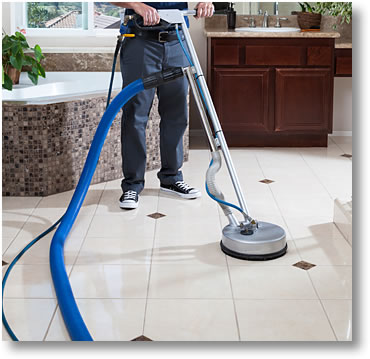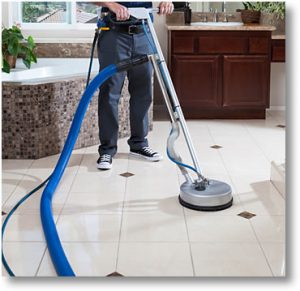 If you tackle it yourself, tile and grout cleaning is quite a chore. Grout, in particular, takes considerable effort. And if you aren't careful, you can bleach your grout's color, creating another lengthy task of recoloring the grout.

Why hurt yourself and risk using cleaners that could damage your tile and grout? We've provided residential and commercial clients tile and grout cleaning for 33 years.

Our steam cleaning company has the experience to restore your tile and grout to its factory-fresh look.

In addition to ceramic, porcelain, and marble tiles, we clean stone and vinyl flooring. Each requires different cleaners to prevent damaging the tile. Plus, after cleaning, we seal your grout to extend the life and look of your floors, showers, or counters.

Our cleaning products are eco-friendly, so you'll never be left with harmful residues on your tile or grout once we're done.
Protect Against Mold and Mildew with Tile Cleaning
Everyone knows that mold and mildew are harmful to your health. For instance, mold causes allergic reactions that can lead to coughing, sneezing, itching, headaches, and breathing difficulties.
Unfortunately, since tile is often used in moisture-prone areas like kitchens and bathrooms, it's susceptible to mold and mildew. For example, spores grow readily on grouting. Grout is a porous material, so it absorbs water and stains quickly.
That's why it's essential, after cleaning, to reseal your grout. Resealing creates a barrier reducing the growth of bacteria, microorganisms, allergens, and stains.
Routine tile and grout cleaning also keep your tile looking great. You'll be surprised at how much it revitalizes the look of the tile. And with appropriate sealers, you can retain that clean look and the life of your tile and grout.
If You're Not Happy with Our Tile Cleaning, We'll Do It Again
We'll make sure your tiles are spotless. In addition, if you have uneven, broken, or missing grout lines, we'll repair them. Then, we'll reseal your tile and grout to keep it looking new longer while tackling daily wear.
More importantly, if you're ever dissatisfied with our cleaning services, just call within ten days of the initial work. We'll return and clean it again.
Our 100% customer satisfaction guarantee ensures that we get the job right, so you are always pleased with the final product.
That same guarantee applies to our other cleaning services, including carpets, rugs, upholstery, and draperies.
Guaranteed Tile and Grout Cleaning Near You in PA and NJ
Take the easy route if you're tired of looking at dingy tiles and mold-stained grout. Call our steam cleaning service.
Our Lebanon and Reading offices serve residential and commercial clients throughout Lebanon, Dauphin, Lancaster, and Berks counties.
You can call our Newton, NJ office for tile and grout cleaning services in Sussex, Morris, and Warren counties.
Steam cleaning is the best, environmentally friendly cleaning method for your home or business. It's fast and affordable, and you'll love the results.
Headquarters
1233 Cornwall Road
Lebanon, PA 17042
717-272-1002
Brandywine Rd
Wyomissing, PA 19610
610-777-0377
Newton, NJ Office
Newton, NJ 07860
973-579-6506
"I requested the services of the Calini Steam Cleaning company recently for the first time. I found Jacob to be very helpful and extremely knowledgeable in his trade. He arrived promptly on the job and consulted what needed to be done to our old carpet to obtain optimal results. When he was finished with the job, the carpet looked outstanding. I was amazed at the transformation of our old carpet. As a result, I would not hesitate to request their services again. My experience with Jacob was very pleasant, and I would highly recommend the Calini Steam Cleaning company. I'm sure you will not be disappointed." – May 10, 2015
– Ed F., Annville, PA