Why Do It Yourself When You Can Use Our Drapery Cleaning Service?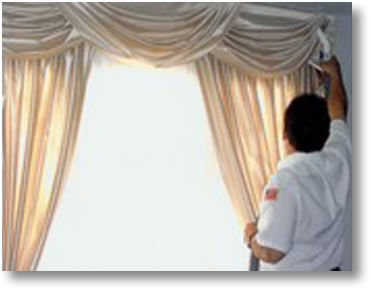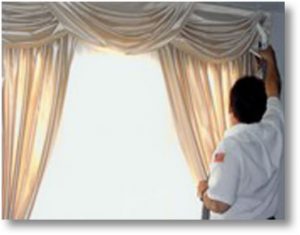 No doubt you vacuum your floors. You might even clean your upholstery occasionally. But what about your draperies? Do you ever get around to cleaning them? We make the job easy with our professional drapery service.

Face it. It's a hassle to take down your curtains, wash or dry clean them, and then put them back in place. But we'll do all that for you. And we'll do it affordably.

Our drapery cleaning service includes:
Drapery Take-down & Re-hanging
Wet or Dry Cleaning
Cleaning of Fabric Vertical Blinds
Deodorizing & Mildewcides
Steam Extraction
Spot Cleaning
Plus, there's never a hidden cost. We'll even show up on time.
Drapery Steam Cleaning Removes All the Dirt – Seen and Unseen
It's easy to spot stains and dust on your curtains. But there are many things you don't see.
Draperies collect allergens. They also pick up odors, smoke, pet dander, cooking oils, and other nasty things. In addition, their fabric contacts insects, not to mention moisture that can lead to mold and mildew growth.
Steam cleaning eliminates all that. It removes all the allergens and pet dander contributing to bad air quality. Your drapes come out looking new. Equally important, you'll extend the life of your drapery with regular cleanings of six months to a year.
Steam cleaning won't cause your drapes to shrink or discolor, unlike other cleaning agents. It also won't harm the delicate fabric of many drapes. The steam passes through the cloth's fiber to remove entrapped dirt.
Fully Guaranteed Cleaning Services
You can count on drapery steam cleaning as the best method for achieving the best cleanliness without damaging your drapes. It's also a cost-effective approach.
In addition, we stand by our work. Contact us within ten days of cleaning if you're not 100% satisfied with your drapery cleaning. We'll return to reclean your drapes for free. We're fully insured with 33 years of professional cleaning experience.
Quality Drapery Cleaning Service for Lebanon and Reading, PA, and Newtown, NJ
Call us if you're looking for drapery steam cleaning near you in Central Pennsylvania or western New Jersey.
We serve Lebanon, Lancaster, Dauphin, and Berks counties in PA. Our New Jersey service area covers Morris, Sussex, and Warren counties.
Whether you're looking to spruce up the drapes in your home or want to improve their look in your office, our professional steam cleaning services will get the job done – guaranteed.
We also offer carpets, rugs, upholstery, and tile cleaning services.
Lebanon, PA Office – Headquarters
1233 Cornwall Road
Lebanon, PA 17042
717-272-1002
Reading, PA Office
Brandywine Rd
Wyomissing, PA 19610
610-777-0377
Newton, NJ Office
Newton, NJ 07860
973-579-6506
"Jacob gave our living room carpet and dining room area rug a new life, and I can't thank him enough for the tremendous job. He worked quickly yet thoroughly. Both areas are refreshed, and the area rug looks new. It's in a high-traffic area and has become dull over the years. So pleased at how it looks now. I'll be a repeat customer for sure."
– Linda M. Bethel, PA (Berks County)